"We as a couple and Brotherhood Mutual would like to see where people that work for Destiny Rescue no longer have to worry about rescuing
women and children from human trafficking because it is no longer happening." – Brad James, Brotherhood Mutual.
Your business can help raise awareness to fight against this global cause and help find and rescue those enslaved.
Rescue Partner
You can help rescue a child every month
As a Rescue Partner your monthly gift of any amount will help rescue children out of slavery and give them the care they need to continue safely living out their God-given destiny.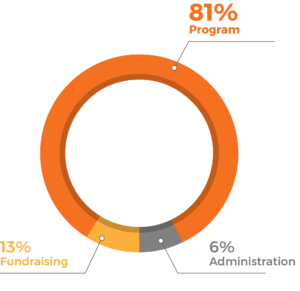 Investing with Integrity
Currently, 81% of every dollar we spend is used for programs that benefit the children we defend.
Destiny Rescue is a recognised member of The Australian Council for International Development (ACFID), the peak body for Australian non government organisations (NGOs) involved in international development and humanitarian action.
We are committed to transparency, accountability and financial integrity.