"MY NAME IS SHONA. THIS IS MY SUCCESS STORY."
Those were the opening words written by Shona, who proudly shared about her life since accepting Destiny Rescue's (an organisation whose rescue work in Thailand, Cambodia, the Philippines and Nepal Child Rescue helps fund) agent's offer of rescue and choosing freedom from a life of sexual exploitation.
As a young girl in Zimbabwe, Shona dreamed of being a nurse. Sadly, she was forced into sexual exploitation for mere survival—to afford basic necessities such as food and shelter for her and her infant child.
Shona didn't have the opportunity to complete enough of her education to pursue a nursing program, and basic education often requires an enrolment fee in Zimbabwe. 
For children trapped in the living nightmare of exploitation, there is little to look forward to in life and often no hope for the future. Destiny Rescue exists to restore sexually exploited children's hope—and that restoration of hope is precisely what happened for Shona. 
Shona and her infant son came into Destiny Rescue's care when she was 17. She is now fulfilling her childhood dream: she was accepted into a nursing assistance program and works at a local hospital. 
"It has been a blessing to have a reason to get up in the morning," she said.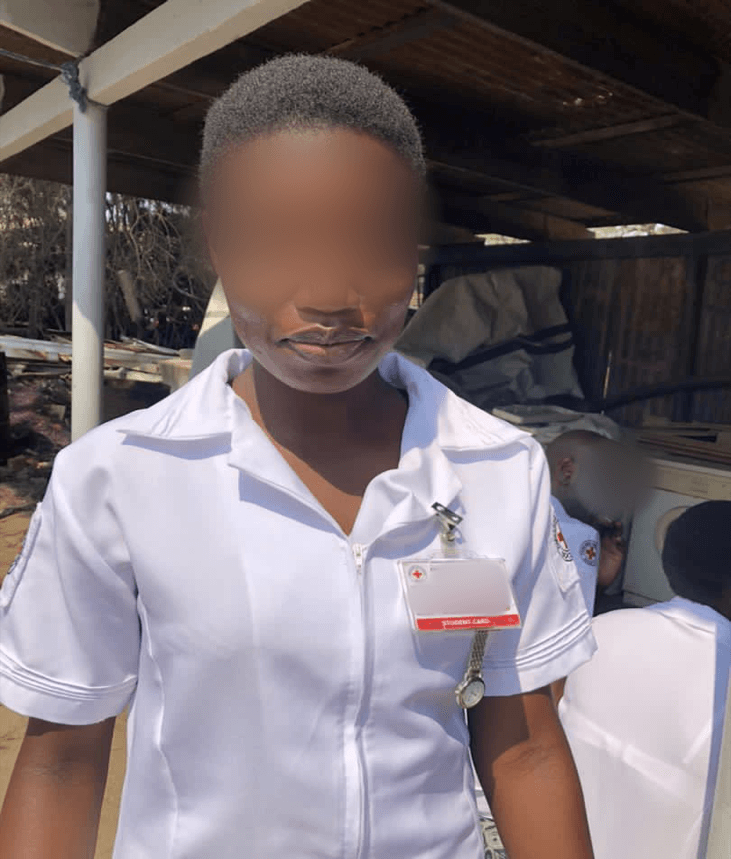 Shona dressed in nursing uniform
Children who enter Destiny Rescue's care may also receive additional assistance, such as food packs, as part of their individualised Freedom Plan™. Freedom Plans are designed to assist each child for up to two years and ensure they are able to continue to live free of exploitation.
Shona shared how thankful she was to receive this assistance. "On a monthly basis, I receive food packages that make a huge difference in my diet," she said. "The food packages have been a relief for me and my son."
Not only has Shona pursued a career where she can serve others, but she also volunteers at a local nursing home. "I have learnt to give as I have been given much," Shona said.
Life has really changed for me. I'm proud of what I've become; I can now see light at the end of the tunnel."
Her name has been changed to protect her identity.
Help fund life-changing empowerment.
Your donation can fund education and economic opportunities to help keep her free.
Help fund life-changing empowerment.
Your donation can fund education and economic opportunities to help keep her free.
Donate with Confidence
---
Child Rescue Charitable Trust and Child Rescue Charitable Aid Trust are registered New Zealand charities. Separate returns for each charity are filed each year with Charities Services which is a NZ Government organisation under the Department of Internal Affairs.
Annual reports to Charities Services can be viewed here
Please note: Annual Reports on this website will refer to 'Destiny Rescue' – Child Rescue's name in New Zealand until August 2017.